Bean Bag Set
and a basket for this activity. I simply pull a letter/number/or color bean bag from the bucket and he has to quickly tell me the letter. If he has to think longer than a few seconds about what letter it is, it goes into a pile by me. If he answers the letter correctly I quickly throw it to him and he gets to try to throw and make it into the basket. Other times we might also try him holding the basket while mommy tries to make it in just to change it up sometimes. So far he really enjoys this activity :P
He loves making a basket!!
For the Summer, I also made these charts for numbers and letters.
As he gets quicker with learning the letters to the point they just immediately come out as soon as he sees them, he gets a star to add to the chart. I hung these on the wall so that he sees each week how he is progressing. He also gets a small prize each week (sticker, candy etc...) for any new letters he recognized really quickly. I decided to do this because one week, he may be able to immediately recognize the letter D each time it is shown to him, but then the following week he may forget it or just might want to play stubborn. So this works for him and gives him incentive.
This is when he gets his ipad time and he will go on starfall, Letter School, or ABC's of God and choose any of the letters in his stack and works on becoming more familiar with them.
Each Day, after Bible, and before we start his activities for the day, Cowboy gets to go to our Homeschool Library and Fill up a Basket with as many books as he would like to read that day. Throughout the day we read all of the books together. He loves being in charge of his own reading list!
Lou, as I mentioned in our Summer Plans Post, is still working on the Human Body. Here she made a Double Helix out of Twizlers.
And this is Lou with her Immune System Project. She made an Amusement Park explaining the Digestive System and how it works. So each ride/ or Station that you go to leads you to the next process in the Digestive System ! This Picture gives her work no justice. She really did an excellent Job on it! Super Proud of the Princess!!
I got this little trash can from Dollar Tree, and gave him a little bucket of Plastic Ping Pong Balls. I showed him how the top of the trash can moves back and fourth and how to drop the balls into the can and then dump the out and start all over again.
Magnet Fun! Making Silly Faces with
Magnetic Silly Faces
on a cookie sheet.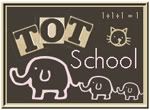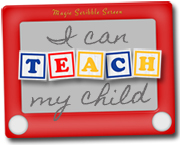 Tot School Tuesdays @ seevanessacraft - Link Here